Who We Are
PetroTest Inc. was founded to provide Underground Storage Tank owners a testing company that they can count on to deliver accurate testing results and resolve UST problems in a timeframe that meets their needs.  Our technicians have years of compliance testing experience and are committed to having the flexibility to meet your projects demands. We are confident that no other company will work more closely with you when time is of the essence.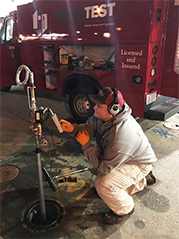 Our technicians will always do our best to accomplish jobs in a single visit and come prepared with parts needed for common issues. PetroTest offers highly competitive rates without sacrificing service and is proud to provide fair, upfront, and accurate pricing. We would love to have an opportunity to discuss your business needs.
What We Provide
We offer multiple testing and compliance services for Underground Storage Tanks (USTs).  Some of our more common calls are for tank water intrusion, notice of violation corrective actions, annual compliance testing, and tank & line leak detection. In addition to these services we perform numerous other tests. We have built our business model to focus on our company's testing expertise, however, when we service your tanks we come prepared with the parts and tools needed to repair most of the issues that are found.
A key advantage to using PetroTest for your testing is we never sell parts to plump profit. If parts are needed we provide them slightly above our discounted cost.  This is just another way we look out for our customer's best interests.

What We Test
Convenience Stores
Fueling Stations
Marinas
Government Facilities
Military Bases
Public Service/Municipalities
Schools
Hospitals
Where We Test
We currently provide UST compliance testing services in North Carolina * South Carolina *Virginia * West Virginia * Georgia * Tennessee.  We focus our efforts in the Central and Eastern Carolinas.